Quality Training, Honesty, Integrity Elevate Brick City
This year for the Fasig-Tipton Midlantic 2-Year-Olds in Training Sale, Brick City Thoroughbreds brings a draft of six select individuals to the Maryland Sale. The company established by JR and Katie Boyd in 2012 prides itself on quality training tailored to each horse, integrity, and honesty. Based in Williston, Fla., the Boyds have three daughters, and everyone who works for the consignor is considered family. After seeing one of their daughters through high school graduation the same weekend as the Preakness, JR Boyd sat down with the BloodHorse MarketWatch, along with his wife, Katie, over the phone to share more about their hands-on boutique operation.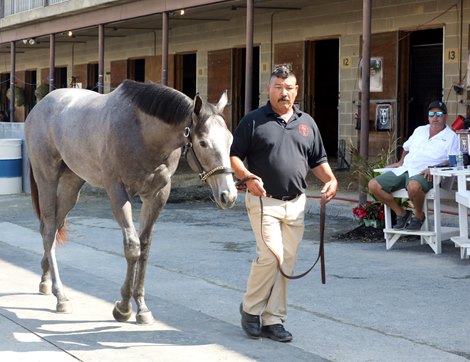 JR Boyd of Brick City Thoroughbreds looks on as Hip 80, a filly by Tapwrit is out for a show at the Fasig-Tipton Midlantic Sale
MarketWatch: How long have you guys been in the business, and how did you meet?
Katie Boyd: We have been in the business a little over nine years with Brick City Thoroughbreds, but JR is a third-generation horseman in the industry for more than 30 years. His stepfather, Robert, and late mother, Mary Harris, ran Harris Training Center, a stalwart breaking and training facility.
JR Boyd: We actually met in a gas station. Katie was 17, and I was 20 years old. We dated for a little while and then both went our separate ways. Twelve years later, we saw each other again, and the rest is history.
Sign up for BloodHorse Daily
MW: What sets Brick City Thoroughbreds apart from similar breaking/training/consignor operations?
JR: We try to establish a big bottom in the horses, giving them a solid foundation for the future. Our track record of horses that go on to successfully race after our program is a very high percentage.
KB: We cater to each horse, it's not a cookie-cutter program with us, and we are small. We start the horses off the same but then see what each horse needs. Some need more of something while others need less; we go on with what the horse tells us.
JR: Honesty … sometimes it hurts us, and sometimes helps us. We are just sincere, honest people. Sometimes, when people ask us for our opinion, it's not what they want to hear. Everyone thinks their horse is special.
KB: We truly love the horses; most horses in our barn will be kissed on the nose daily. Some even learn to give kisses back. We get to know the horse and then adjust the training for them; not one method works for all. We are hands-on; we live on our farm and are in the barn daily—morning and night checking on the horses and hanging out with them. They are so loved. Most of them even get a barn name.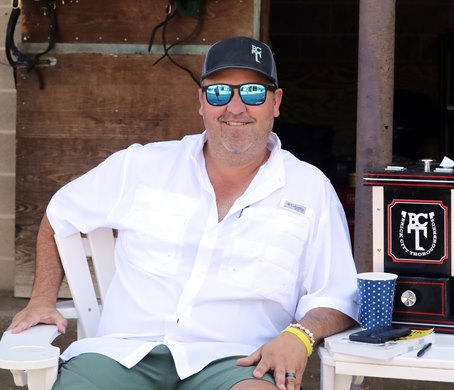 JR Boyd at the Fasig-Tipton Midlantic Sale
MW: What have been some of the highlights of Brick City Thoroughbreds graduates, and what do you see for your future?
JR: Bodexpress  , he is a grade 1 winner in the Clark Stakes Presented by Norton Healthcare at Churchill in 2020 and contested the 2019 Kentucky Derby Presented by Woodford Reserve (G1) and Preakness Stakes (G1). Gunmetal Gray , winner of the Sham Stakes (G3) in 2019, and Caracaro  , who ran second to Tiz the Law   in the 2020 Travers Stakes (G1). But I honestly think our biggest success is raising three daughters and getting them through school.
KB: Ten years from now, we would love to say we have had a Derby winner; that's the dream we are chasing. We aren't looking to be a huge operation, just one that sells pretty, fast, and sound horses. We would like to gain a couple more clients to train horses either for just the races or to go to the sales. 
We are turning into more of a boutique farm, where we don't have as many high numbers coming through but are being selective on the horses we train and take on. Catering to that, we would like to get some more sales horses for the consignment.
MW: What has been the best advice you have been given?
JR: To stay humble. I grew up in this game and saw the highs and the lows; you have to try to stay level. Don't go too high when it's up, and don't get low when it falls, because this industry will humble you fast.
KB: But on the flip side of that, this year's Kentucky Derby winner, Rich Strike , proves anything is possible. We have big dreams, and we set our goals and hopes high, but we also have a good touch with reality. We know where it all comes from because we are big believers.
JR: My mother always said, 'You have to crawl before you can walk,' and now that I am older, it makes a lot of sense.