What's happening? While London and Brussels trade jabs, U.K. ministers plan big changes in the City and delay import checks until 2022.
London's financial sector could be on the cusp of one of its biggest shake-ups in decades. In a Bloomberg interview, Economic Secretary to the Treasury John Glen said that ministers plan to consult business in the summer as part of a wide-ranging review. As Alex Morales and Silla Brush report, the move is part of a bid to defend the City of London's global role after Brexit. 
To stave off disruption for imports this summer, the U.K. government will delay imposing post-Brexit checks on imports coming from the European Union until Jan. 1, 2022. New rules were due to be enforced in July, shortly after Britain's hospitality sector reopens from a third national lockdown. "We have listened to businesses who have made a strong case that they need more time to prepare," Cabinet Office Minister Michael Gove said.
The rejection rate for freight crossing from France to Britain climbed last week, high-frequency data show,  a sign of "uncertainty in the transport market," according to logistics platform Transporeon. "The economy is still adjusting to big changes," ING economist James Smith says. Figures out Wednesday also showed that post-Brexit traffic disruption was smaller than during 2020's first Covid lockdown.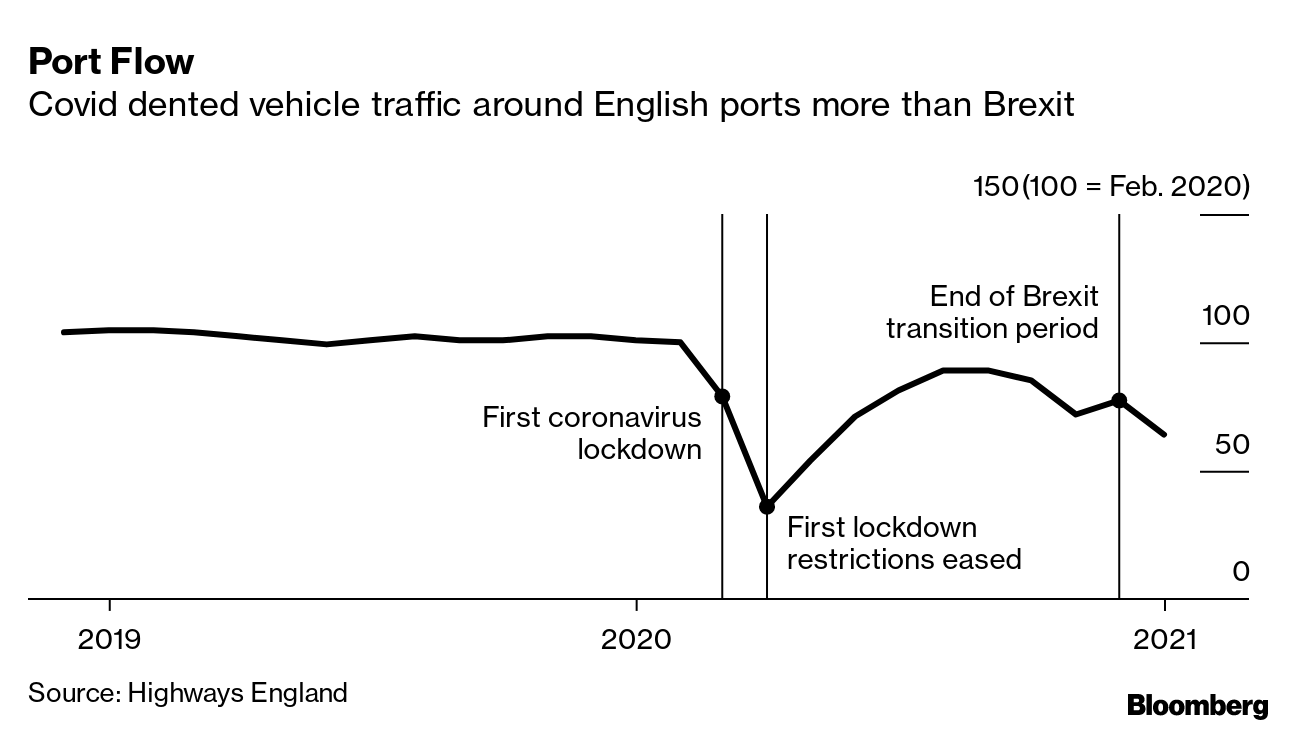 "Vaccine nationalism" is at the heart of the latest dispute between London and Brussels, in the words of European Council President Charles Michel, who claimed the U.K. isn't sending any doses overseas. The EU has urged the U.K. to "come clean" on its exports. U.K. Prime Minister Boris Johnson insists Michel has got it wrong, and that now a single dose has been blocked from export to the bloc. Still, a document seen by Bloomberg shows the U.K. was the largest recipient of vaccine exports from the EU as of March 9. It hasn't said whether any doses went the other way.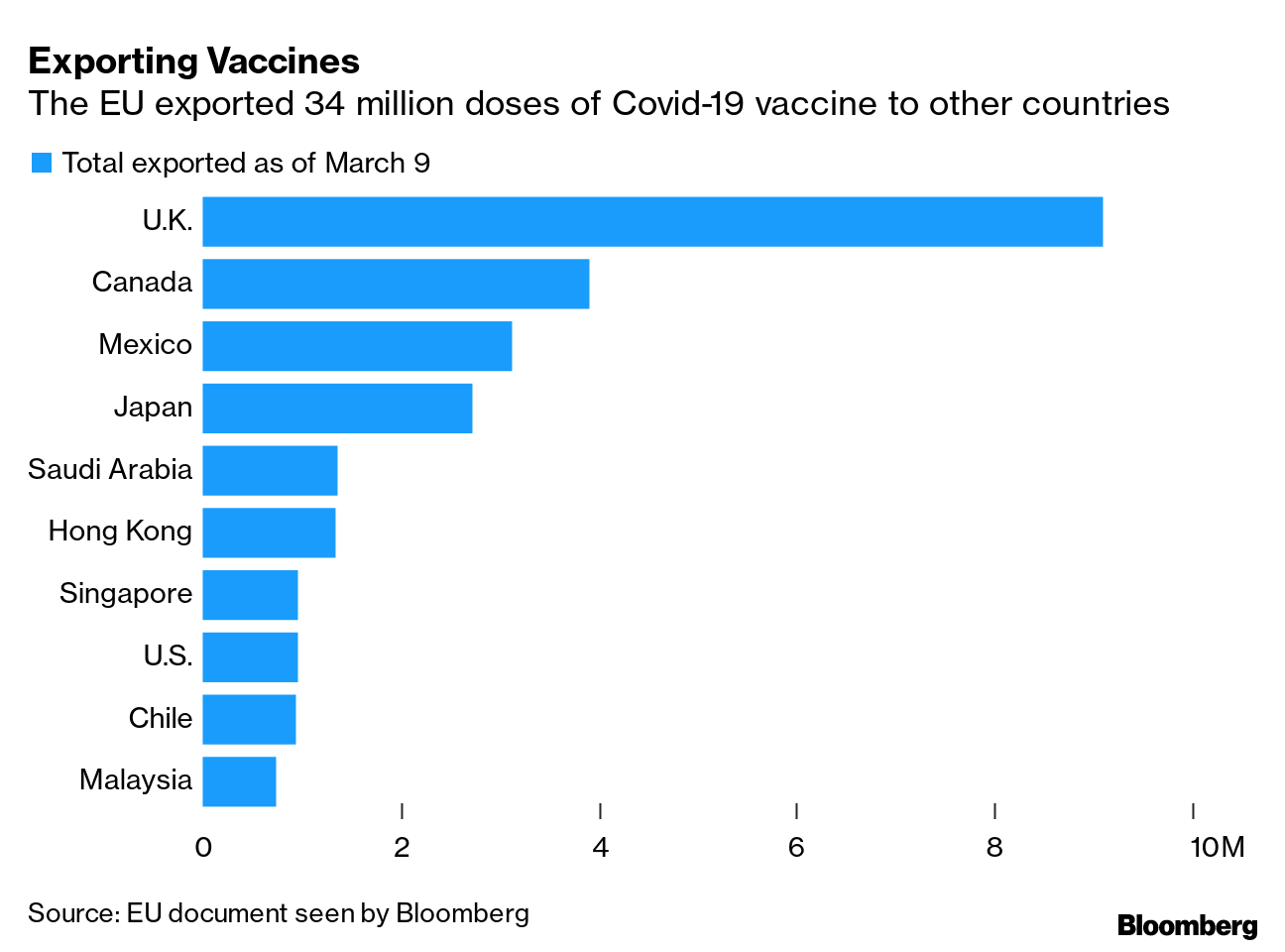 The row risks souring relations between the EU and its former member state. Brussels is threatening legal action against London forunilaterally ditching rules on checks on goods crossing into Northern Ireland from the rest of the U.K. The question of access for U.K.-based financial services to the EU market also remains under discussion. Britain shouldn't hold its breath for an equivalence deal, Ireland's ambassador to the EU warned.
Stay tuned: On Friday, the Office for National Statistics will release U.K. trade figures for January, revealing the first effects of Britain leaving the single market and customs union. The picture looks bleak:
Official German data show German imports from the U.K. fell 56% in January from a year earlier, while exports dropped 29%. 

A fifth of companies that trade with the EU stopped doing so in January, according to a survey by the Institute of Directors business lobby group. Almost half of these said the cessation was permanent, especially financial services firms. 

Separate research by trade association Make UK found almost three quarters of British manufacturers have experienced Brexit delays in the past three months. More than half say this has led to increased costs.
As ever, if Brexit is affecting your business in a way we haven't reported, please get in touch. You can reach me at [email protected]
Chart of the Week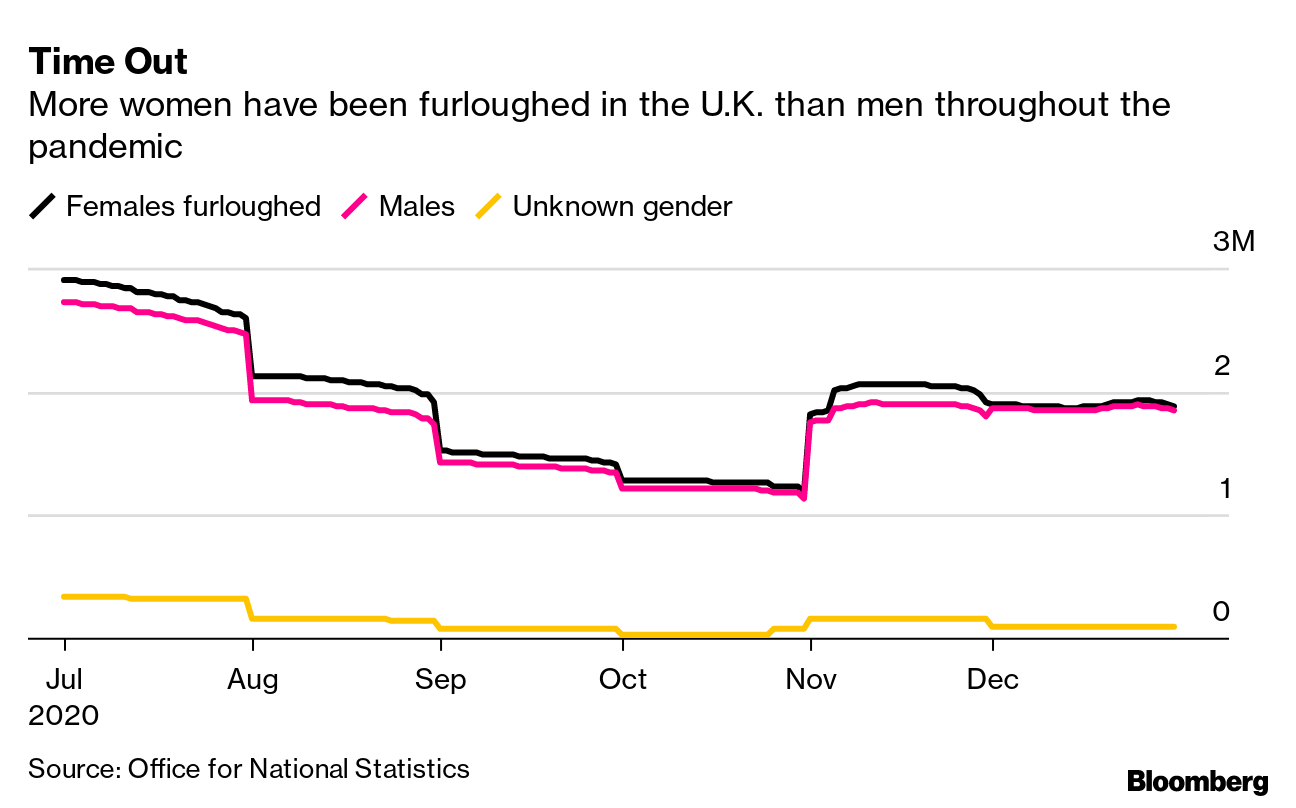 Women in the U.K. were more likely to be furloughed than men during the coronavirus pandemic, according to an Office for National Statistics analysis. The gap peaked at over 200,000 jobs in August, when an easing of restrictions allowed some people to return to work. The findings add to evidence that the progress made  by women in the labor market in recent years is being reversed. —Camomile Shumba
Read more at Bloomberg Equality
Don't Miss
Want to keep up?
You can follow us @Brexit on Twitter, and listen to Bloomberg Westminster every weekday.
Share Beyond Brexit: Colleagues, friends and family can sign up here. For full EU coverage, try the Brussels Edition.
Get More From Bloomberg
You can find all of our newsletters here, but here are some we think you'd particularly enjoy:
Track trade and the global economy in Supply Lines
Follow global politics news and analysis in Balance of Power
Get daily insights on climate in the Green Daily
Bloomberg is also tracking the progress of coronavirus vaccines and mapping the pandemic. Sign up here for our Coronavirus Daily newsletter and here for our podcast.
Subscribe to Bloomberg.com for unlimited access to trusted, data-driven journalism and expert analysis.